Linda is the exclusive Limoges Collectables box designer for the Bailey Matthews Shell Museum on Sanibel Island, Florida (the only museum devoted to shells in the world; also specializing in other marine motifs). Linda continues the tradition of her great grandmother, Bertha Irene Saxman Parson, who had a china painting studio on Newbury Street in Boston at the turn of the century.
The origins of these petite hinged boxes date back to mid 17th Century France where the first cache of the beautiful Limoges clays was discovered. The boxes were originally known as Tabatieres or tabacco boxes. Jewelry, perfume, or snuff containers also became uses for these intriguing boxes. Through time the boxes have become valuable collectables that continue to amaze and entertain.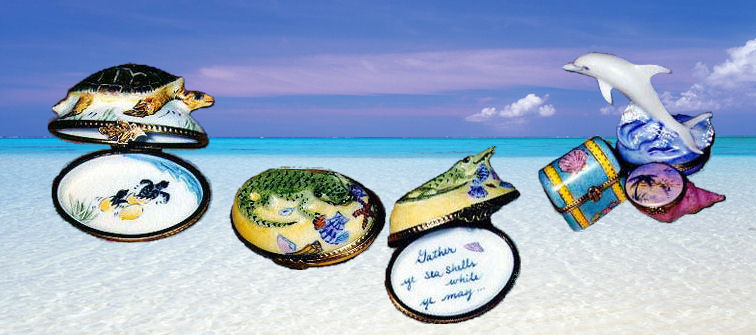 The process begins with the remarkable Limoges clay, renowned for its whiteness and translucence. Then skilled French artists cast each form from this distinctive clay, then fire, enamel, and refire at the extreme temperature of 1400 degrees. Then the boxes are hand-fitted with detailed metal frames and clasps which are artworks in themselves. Linda hand paints and fires these boxes several times to achieve the design and depth of color. Because each box is handcrafted and hand painted, each possesses minute variations in color, brush strokes, and form that makes it an individual and valuable piece of art.
In addition to sea and shell subjects, Linda portrays other subjects including landscapes, floral, and Dresden forms on the petite boxes. She can design and personalize to your needs. For more information, please write to:


Linda Apte Design Studio
P.O. Box 619
North Conway, NH 03860-619